Majical Cloudz Did It All for the Nookie
By Devon Maloney • May 22, 2013
On the eve of the release of its new album, Impersonator, the Brooklyn-based duo saddled up with a few friends (including Grimes) to test their karaoke mettle in New York's Lower East Side. Did they rock the mic right?



Head thrown back, arms holding a small plastic bear aloft, Devon Welsh is guzzling honey. He and a handful of others—bandmate Matthew Otto, buddies Neil Corcoran and Claire Boucher, another journalist, a photographer—are sitting on a bench running along the wall of a dark room. In the corner, a disco ball spins, refracting a speckled pattern of green and red light on the walls and across their faces. This is a karaoke bar in Manhattan's Lower East Side, and Devon is rallying for his fifth song of the evening, a very energetic—and very true-to-form—rendition of Limp Bizkit's "Nookie."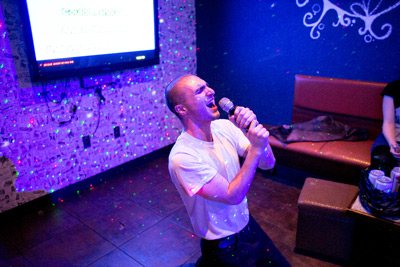 During his performance, from the bench, Claire looks a little concerned. She cups her hands around her mouth somewhere around the second verse and shouts something inaudible at Devon over the music, something about taking it easy. Earlier in the night, he and Matthew—together, Majical Cloudz—performed a quick in-store set at East Village record store Other Music, and they had a show the following night in Brooklyn to celebrate the release of their Matador debut full-length, Impersonator. It would be wise to conserve. Not to mention Claire, Devon's friend of six years—and also, yes, known to most as Grimes—ought to know.
But Devon is way too into this to heed sideline advice. He's jumping up and down howling "STICK IT UP YOUR YEAH! STICK IT UP YOUR YEAH!" like he's on a beachfront stage onTRL's "Spring Break 1999." Fred Durst would be proud.
"I've only ever done one karaoke song before," Devon confesses after he finishes, yielding the stage to Neil's soulful cover of Wham!'s "Wake Me Up Before You Go-Go."
What? Like, you only like singing one song?
"No, I've only done karaoke one time ever, and that was in 2007."
Knowing that now, I suddenly can't shake the feeling that if Devon loses his voice at a karaoke bar the night before his and Matt's debut record release show, it'll be all my fault.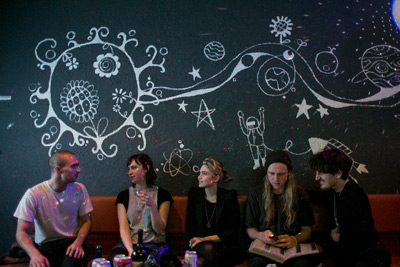 The tale of how we ended up here started a few weeks ago, when Majical Cloudz played the famous (and famously tiny) Hoboken club Maxwell's. They had performed in a larger venue to mediocre results earlier this year, but shortly thereafter, I'd heard Impersonator and fallen in love, so I figured that better context (a cozier stage) might yield better results. The duo's performance was spellbinding. The way Devon's voice filled the room was deeply impressive, even in a technical, vocal-coach sort of way (others have shared this surprise). I wrote as much in my review of the show, adding—as a joke—that I now wanted to do karaoke with Devon Welsh.
On the Internet, no one-liner goes unseen by the person it's about, of course, so naturally the guys in Majical Cloudz read the off-the-cuff thought and found me on Twitter. Fourteen days later, here we are: disco balls, Limp Bizkit and uncertain guilt.Early in the night, Matt pairs up with Neil for a recital of Backstreet Boys' "I Want It That Way," but taps out of the queue for good soon thereafter. Claire doesn't go up at all (she gets nervous when it comes to unrehearsed performances, she says), but does sing along from the bench with this journalist's choice of TLC's "Unpretty."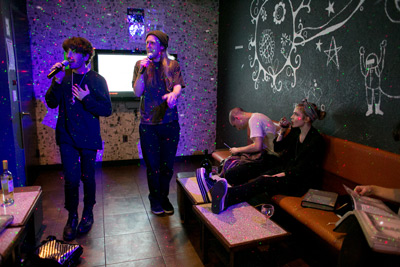 But Devon Welsh. For a dude who has only done karaoke once, he takes control of the situation like a professional. The yawning slide-vocals that won over Maxwell's are just as well adjusted to Pearl Jam's "Last Kiss" and Chris Isaak's "Wicked Game." He scribbles titles and songbook numbers in a mini notebook—a setlist!—and over the course of the night, between consistent swigs from honey bear, racks up about 10 songs in the rotation including two Bizkits ("Nookie," but also"Break Stuff"), a Creed ("With Arms Wide Open") and a My Chemical Romance duet ("The Ghost of You").There are some serious cuts, too. He does Death Cab for Cutie's "I Will Follow You Into the Dark" and it sounds like it could be a forthcoming cover to be released as a Record Store Day charity single. When we pair up for a duet rendition of "Mr. Brightside," it takes me 15 seconds to realize how much better this song would sound if I had let him do it solo. His cover of the Smiths' "There is a Light That Never Goes Out" is such a spot-on choice that you're probably saying "ofcourse."
Over the course of the evening, the room swells to double its original capacity, with complete strangers (journalists that management has invited, their friends, friends of their friends) taking turns on songs like Starship's  "We Built This City," but—probably due to the fact that he's the only "famous" person singing—Devon's choices anchor the night in a way that oscillates between sincere and goofily surprising. One thing becomes clear: every singer who has ever been compared to more than, let's say, three other artists—for Devon's part, he gets Morrissey, George Michael,Antony and about 15 others—ought to have the opportunity to shut up the critics by nailing his or her predecessors' songs at karaoke.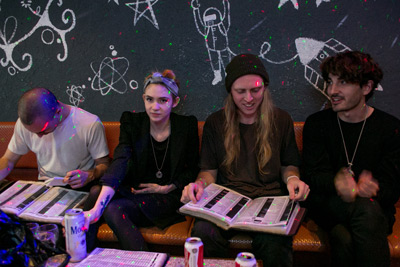 Beyond Twitter proposals and nu-metal expertise, there are a lot more earnest and unpredictable qualities to Majical Cloudz. Devon, an Ontario native, cut his performance teeth in a lot of places that couldn't be further from his imminent-indie-success present: in bit parts in school musicals and at the front of multiple hardcore bands. ("You know the dorky guy [Eugene] in the musical Grease?" he asked when we met two weeks ago. "Not even him. I played his friend. I think I had one line.") Matt, likewise, didn't sing in a choir or play in the school band; instead, he played ice hockey and practiced karate. But on the flip side, there's a lot of background that make sense, too: Devon's father, Twin Peaks actor Kenneth Welsh; the whole Montessori-school-education thing; Devon and Grimes' friendship through Montreal-based DIY arts collective-cum-record label, Arbutus. It's proof that not all artists with haunting voices emerge from mysterious mists of horribly scarred legitimacy myths.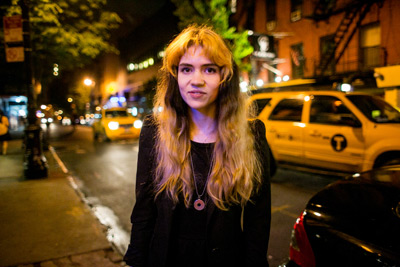 Most of this, the likely and unlikely, they both seem pretty open about discussing, too. There's nothing artificial about the way Matt and Devon answer questions; what's rarer, they seem deeply interested, without a hint of insecurity, in what other people have to say about it. (These are, after all, two guys willing to do karaoke with journalists for fun.)
In 2012, as they were conceptualizing and putting togetherImpersonator, the duo released an experimental LP, II, and a more fully formed EP, Turns, Turns, Turns. During that time, they have also developed a knack for laying a breadcrumb trail of allies wherever they go, which is serving them better than 100 free Bandcamp EPs ever could. An earnest friendliness between songs and in conversation with journalists and fans (not to mention their highly active Twitterand Tumblr accounts), coupled with the close-contact sadness they share with their intimate live audiences, is a combination that could make any music fan truly excited, both for their growth as artists and for (admittedly, this is selfish) the enthusiasm they elicit in music writers. I barely have to mention this, but today, that excitement is a rare, rare gift.
The album, like its creators, seems to surprise everyone with its crystalline honesty. "If someone were to release an instrumental version of Impersonator, it would be a pretty incredible ambient album," one critic notes of Matt's impeccable looping work. Another likens Devon's character on the record to "a sad owl clutching a dead mouse in its mouth," "a lost drifter character out of a Gus Van Sant movie." On paper, you wouldn't expect magic, but when it starts, it encompasses you in this weird hollow emotion-tunnel, immediately and entirely. People (ahem) accidentally cry listening to these songs. As one writer put it, the thing is "as discomfiting as it is transcendent"—not unlike the paint-spattered horse figurine Matt wears around his neck on a noose-like string (cool-looking, but also a little creepy, he explains), and not unlike Devon's eerily good Creed cover.
After about three-and-a-half hours of karaoke and almost an entire bottle of honey (not to mention some red wine), there's no telling what hell hath been wrought on Devon's voice. It sounds fit now, but who knows what could happen by morning?
Twenty-five hours, and a few Tweet-recaps later, however, Devon and Matthew climb onto the ledge of a stage at Glasslands to test their boundaries. The plastic honey bear lays crumpled, almost prophetically empty, on the stage near Matthew's synth cords. Another disco ball hangs here, only this one is motionless in the dark, hovering over a teeming crowd. Unlike many of his stages, this one's dim lighting is perfectly to Devon's liking.
As the duo performs the entirety of Impersonator to a room filled to the rafters with people (including Neil and Claire, the former of whom is selling merch and the latter of whom is billed as the special guest DJ following her friends' set), Devon can't stop thanking the audience. "I'm overwhelmed, I don't even have any jokes," he manages to say between deeply affecting songs like the vivid childhood narrative "This is Magic" and behemoth three-liner "Silver Ring" (during the latter, he climbs onto and proceeds to drape himself, barefoot, across an amp as he howls). At the end of the set, he and Matt stand together, for a solid minute, like concert pianists in the center of the stage, soaking up the hooting applause that drowns out the room.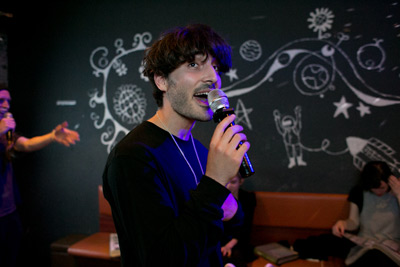 No one who didn't know he was screaming "EVERYTHING IS FUCKED/EVERYBODY SUCKS!" last night could have noticed a difference in vocal quality, by the way. Devon might've been a little more restrained on some notes, a tad strained on others, but whatever he felt might've been lacking (a brief mic cut-out here, another lighting adjustment there), the pair made up for it with intentionally whispered lines, purposely drawn-out loops and, in Devon's usual rocking and bobbing (if you were looking for it), a little extra rock-and-roll oomph, courtesy, perhaps, of one Mr. Fred Durst.

Photography by Courtney Dudley